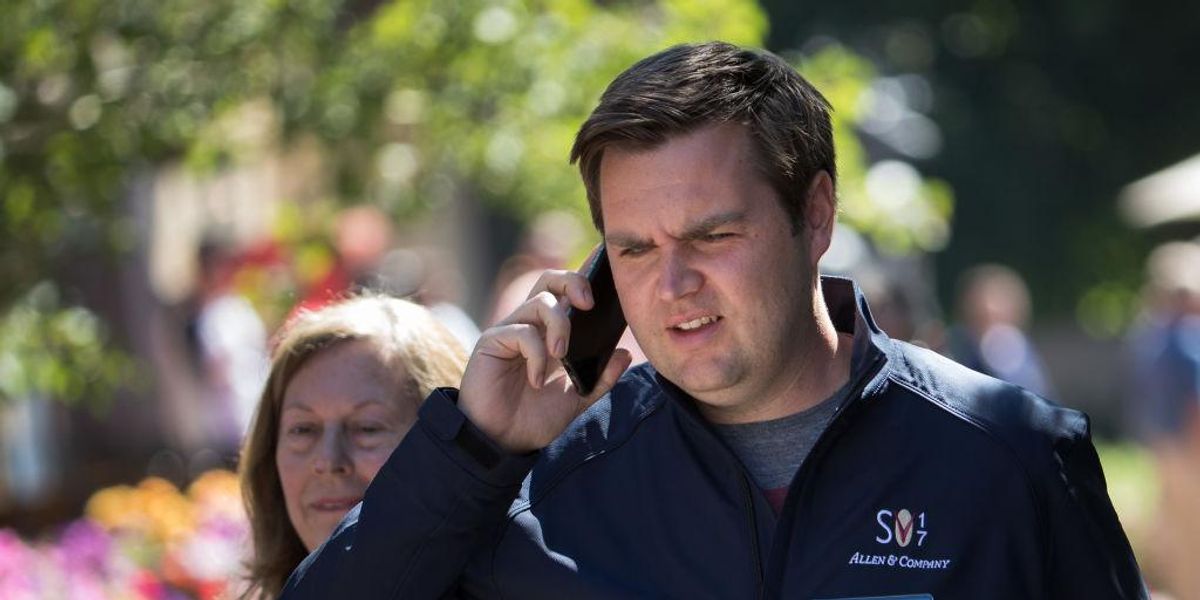 "Hillbilly Elegy" author J.D. Vance accused Bloomberg, the Washington Post, and numerous other media outlets of shaping a false narrative about his exit from the board of an agricultural tech company as he contemplates a run for U.S. Senate in Ohio.
Vance, a 36-year-old venture capitalist, on Wednesday resigned from the board of Kentucky-based tomato-grower AppHarvest. He was an early investor in the company and a member of the board of directors. Bloomberg first reported and various news reports subsequently claimed that he resigned after sending "controversial tweets" that criticized corporations for opposing Republican-supported election integrity laws passed in Georgia and proposed elsewhere in the nation.
Vance had tweeted that corporations that oppose the GOP laws should have their taxes raised or "whatever else is necessary to fight these goons."
At this very moment there are companies (big and small) paying good wages to American workers, investing in their c… https://t.co/d2oNRpAvMM

— J.D. Vance (@J.D. Vance)1618256459.0
Axios later reported that Vance had announced his intention to resign on March 22, well before sending the tweets in question, telling the board he was likely to run for Senate and did not want the company to become politicized.
On Friday, Vance issued a lengthy thread on Twitter disputing the narrative that he left AppHarvest because of his tweets, explaining his reasons for exiting the company, and condemning the media for false reporting.
"Alright, here's a story about how the media often shapes narratives instead of reporting the truth, and how a small untruth can morph into a lie that's repeated again and again throughout the media bubble," Vance tweeted.
He explained that as AppHarvest has become a successful publicly-traded company, his "ability to be useful" is "limited."
"I'm thinking about a political run, and whatever I do politically, I hate the insane reigning political orthodoxy," Vance said. "So last month, I started talking with other members of the board about stepping down. The basic thinking was: I'm going to keep speaking my mind, and I'd rather do that unconstrained by the demands of a public board. And I thought the company would be better off too.
"Now, do I think this is unfair? Yes. Do I think progressive board members at public companies are worried about their viewpoints affecting their companies? Obviously not, and the last few weeks have shown everyone: corporate America is totally in the tank for the left," he stated, appearing to refer to the united corporate statement signed by hundreds of CEOs expressing opposition to Georgia's new voting law and "any discriminatory legislation" that progressives claim would restrict ballot access.
Vance said that this "marriage between the left and corporate power" requires "political intervention" and that he did not want to drag AppHarvest into a political fight.
So Vance resigned from AppHarvest's board on April 9 and his resignation went into effect on Monday April 12.
"On April 13, Bloomberg's [Deena Shanker] posted a story that said Appharvest announced my departure 'in response' to a Bloomberg inquiry about my 'controversial statements.' I was only asked for comment 'via LinkedIn,' which is kind of like asking me for comment through MySpace," Vance recounted.
"The clear implication is that I was forced down because of my tweets. The only problem? The two 'controversial' tweets were posted on April 9, at 3:58, and on April 12. In other words, I resigned before I sent the tweets. And the suggestion that I was forced down is absurd," he said.
"I've seen this lie repeated in any number of media outlets, from local Louisville and Cincinnati papers to national outlets like the Washington Post. But let me just say again: the idea that I was forced out of Appharvest because of some tweets is obviously untrue. It is a lie.
"This is how too many in our press operate, and it's why the media is one of the least trusted institutions in society: Gin up a story, run it without proper sourcing, and let it run through multiple outlets. To everyone that's run this lie: please do your stealth edits."
Bloomberg's original report was corrected on April 16 to remove a reference to Vance's tweets in the headline and adjust the grammar in the paragraph that originally claimed Vance exited AppHarvest "in response" to an inquiry from Bloomberg about his tweets.
Vance is openly considering a bid for the U.S. Senate seat that will be vacated by retiring Sen. Rob Portman (R-Ohio).
window.REBELMOUSE_LOWEST_TASKS_QUEUE.push(function(){
window.REBELMOUSE_STDLIB.loadExternalScript("https://assets.revcontent.com/master/delivery.js", function() {
});
});
window.REBELMOUSE_LOWEST_TASKS_QUEUE.push(function(){
//Facebook Pixel Code !function(f,b,e,v,n,t,s) {if(f.fbq)return;n=f.fbq=function(){n.callMethod? n.callMethod.apply(n,arguments):n.queue.push(arguments)}; if(!f._fbq)f._fbq=n;n.push=n;n.loaded=!0;n.version='2.0'; n.queue=[];t=b.createElement(e);t.async=!0; t.src=v;s=b.getElementsByTagName(e)[0]; s.parentNode.insertBefore(t,s)}(window, document,'script', 'https://connect.facebook.net/en_US/fbevents.js'); fbq('init', '1398069580413568'); fbq('track', 'PageView');
});
window.REBELMOUSE_LOWEST_TASKS_QUEUE.push(function(){
function menuClick() { console.log("clicked");
if (document.querySelector('.hambg-btn.js--active') != null) { document.getElementsByClassName('huge-menu')[0].style.display = 'none'; document.getElementsByClassName('hambg-btn')[0].classList.remove('js--active'); document.body.classList.remove("huge-menu-opened"); document.body.classList.remove("menu-opened"); } else{ document.getElementsByClassName('huge-menu')[0].style.display = 'block'; document.getElementsByClassName('hambg-btn')[0].classList.add('js--active'); document.body.classList.add("huge-menu-opened"); document.body.classList.remove("menu-opened"); } }
function addMenuClickListener() { var rebelMenu = document.getElementsByClassName('rebelbar__menu-toggle'); var menuClose = document.getElementsByClassName('hm__close'); var stickyMenu = document.getElementsByClassName('sticky-menu');
rebelMenu[0].addEventListener('click', menuClick);
if(menuClose[0] != undefined){ menuClose[0].addEventListener('click', menuClick);}
if(stickyMenu[0] != undefined){ stickyMenu[0].addEventListener('click', menuClick); } }
addMenuClickListener();
});
window.REBELMOUSE_LOWEST_TASKS_QUEUE.push(function(){
window.REBELMOUSE_STDLIB.loadExternalScript("https://assets.adobedtm.com/98de9919e92a38033805f9f035c43198533e4380/satelliteLib-38c7b1e4b1bb3e0378e82d10601662aebfb04eda.js", function() {
window.analyticsData = { events: {active: {view: {asset: {}}, device: {}}} }; window.analyticsData.events.active.device.appVersion = "1.1"; window.analyticsData.events.active.device.host = "premiere.off.us"; window.analyticsData.events.active.device.subHost = "theblaze.com"; window.analyticsData.events.active.pageName = "articles"; //window.analyticsData.events.active.view.asset.id = "articles|"+ __BOOTSTRAP__.post.basename; window.analyticsData.events.active.view.asset.name = document.title; //window.analyticsData.events.active.view.authorId = __BOOTSTRAP__.post.original_user_subsite.title; window.analyticsData.events.active.view.pubDate = "04/16/2021"; window.analyticsData.events.active.view.contentOriginType = "Premiere"; window.analyticsData.events.active.view.stationCallLetter = "TheBlaze"; window.analyticsData.events.active.view.stationFormat = "NEWSTALK"; window.analyticsData.events.active.view.stationMarket = "PREMIERE"; window.analyticsData.events.active.view.personalityId = "theBlaze"; window.analyticsData.events.active.view.tags = ["j-d-vance-senate-campaign", "j-d-vance", "hillbilly-elegy", "ohio-gop-senate-primary", "media-bias", "fake-news", "appharvest"]; window.analyticsData.events.active.view.photoGalleryExists = "FALSE"; window.analyticsData.events.active.view.photoGalleryPageView = "FALSE"; window.analyticsData.events.active.view.contentFrame = "page"; window._satellite && _satellite.pageBottom();
});
});
window.REBELMOUSE_LOWEST_TASKS_QUEUE.push(function(){
function test_adblock(func, id) { var t="0.1.2-dev", el = document.createElement('div'); el.id = id ? id : 'sponsorText'; el.appendChild(document.createTextNode(' ')); Object.assign(el.style, { left: '-999px', position: 'absolute' }); document.body.appendChild(el); setTimeout(function() { if (el) { var o = el.clientHeight === 0; func(o, t); document.body.removeChild(el); } }, 200); } test_adblock(function(is_blocked) { console.log(is_blocked); var wid = is_blocked ? 140286 : 140117, target = document.getElementById('rc-adblock-widget'); var el = document.createElement('div'); el.setAttribute('data-rc-widget', ''); el.setAttribute('data-endpoint', 'trends.revcontent.com'); el.setAttribute('data-widget-id', wid); target.appendChild(el); if (typeof window.renderRCWidget !== 'function') { var script = document.createElement('script'); script.src="https://assets.revcontent.com/master/delivery.js"; script.defer = true; target.appendChild(script); } else { window.renderRCWidget(el) } });
});
window.REBELMOUSE_LOWEST_TASKS_QUEUE.push(function(){
(function(s,u,m,o,j,v){j=u.createElement(m);v=u.getElementsByTagName(m)[0];j.async=1;j.src=o;j.dataset.sumoSiteId='f20bb26e74a94a53daa9113206b98941e1dfba90635d317b9efd9e33a89bf515';v.parentNode.insertBefore(j,v)})(window,document,'script','//load.sumo.com/');
});



View original Post