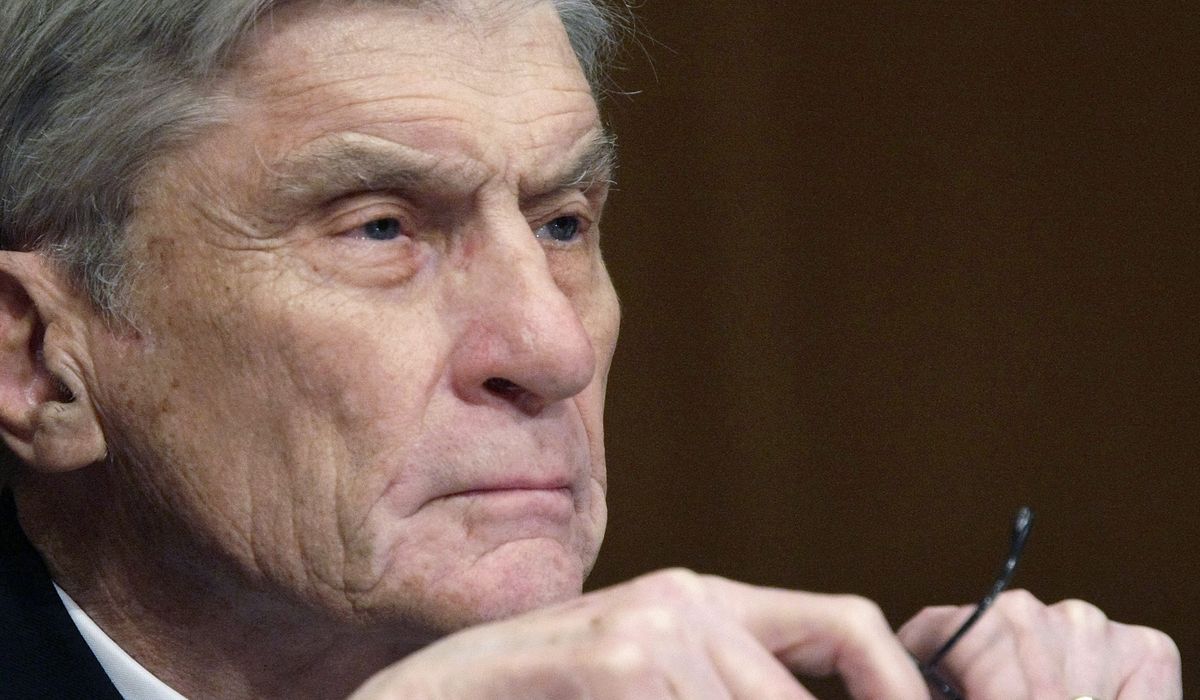 Former Sen. John W. Warner III, a titan of Virginia politics who served five terms in the U.S. Senate, died Tuesday evening in Alexandria. He was 94.
He died of heart failure with his wife, Jeanne, and daughter, Virginia, by his side, according to multiple reports.
A veteran of World War II and the Korean War, Mr. Warner served in the Senate from 1979 to 2009 after a brief period as Navy secretary. He rose to chairman of the Senate Armed Forces Committee.
President Biden, who served with Mr. Warner in the Senate, highlighted the Virginian's ability to buck his party and brush off the resulting criticism.
"His favorite rejoinder was, 'Let 'em say it,'" Mr. Biden said.
The president highlighted Mr. Warner's support for him in the 2020 election and said the late senator was guided by two things: his conscience and the Constitution.
"And, when acting in accordance with both, he neither wavered in his convictions nor was concerned with the consequences," Mr. Biden said. "From fighting for international rules and norms to help keep the peace among nations, to his principled stances to oppose torture and support our armed forces and our national security, I always knew that John's decisions were guided by his values — even when we disagreed on the policy outcomes." 
Sen. Tim Kaine, Virginia Democrat, paid tribute to the former Republican senator.
"I am stunned at the loss of John Warner. Virginia has lost an unmatched leader, and my family has lost a dear friend," Mr. Kaine said.
Mr. Warner became the sixth of actress Elizabeth Taylor's seven husbands before he was elected to the Senate, although the marriage only lasted from 1976 to 1982.
He developed a reputation as a centrist and broke from Southern conservatives on issues such as gun control — he supported the Brady Bill — and backed embryonic stem cell research despite a broader pro-life record. He also rejected the Supreme Court nomination of Judge Robert Bork by President Ronald Reagan.
He supported the Iraq War under President George W. Bush but also pushed in 2007 to bring troops home to make clear it wasn't an indefinite commitment.
Opting not to run in 2008, he endorsed now-Sen. Mark Warner, a Democrat and no relation, to take his place.
On Wednesday, his successor dubbed the late John Warner "a consummate statesman and a public servant who always put Virginia before politics."
"John Warner and I ran against each other back in 1996. I've often said since that the right Warner won that race. And one way that I know that is that even though we came from different political parties — even though we ran spirited, albeit respectful, campaigns that year — as soon as the election was called, it was over," Mark Warner said. "And even though John Warner was already a towering institution in Virginia politics, and I was just some young upstart, he allowed me to become his friend."
Mr. Kaine recounted a similar note in the late senator's personality: "John and I once talked about how the Senate of today was more partisan and less relationship-based than during his years of service. But at the end of our conversation, he told me: 'But Tim, it's not in the water supply or sick building syndrome. It's in the character and priorities of the people who walk into the building every day. So you have a chance to walk into the Capitol and make it better each day.'"
House Speaker Nancy Pelosi said the U.S. has lost a "great patriot."
"Senator John Warner was a hero in the military, a respected leader in the Senate and an inspiration to all with his joy for life," the California Democrat said. "John Warner leaves a remarkable legacy of service that will long inspire Virginians and indeed all Americans."
Richard L. Anderson, chairman of the Republican Party of Virginia, said Mr. Warner served his country honorably for decades.
"As we mourn the passing of our beloved friend, let's remember and celebrate the life he led and strive to achieve the same level of passion for service that he embraced," Mr. Anderson said.
Born in Washington, D.C., on Feb. 18, 1927, Mr. Warner volunteered for the Navy at 17 and served as a 3rd class electronics technician. He received an engineering degree from Washington and Lee University in 1949.
He entered law school at the University of Virginia in the fall of 1949 but volunteered the next year for the Marines, serving in Korea as a first lieutenant and communications officer with the First Marine Air Wing. Following Korea, he returned to law school and received a degree from the University of Virginia in 1953.
He was a law clerk at the U.S. Circuit Court of Appeals for the District of Columbia, went into private practice and then served four years as a federal prosecutor. He became under secretary of the Navy in 1969 and served as secretary of the Navy from 1972 to 1974.
Mr. Warner got an estimated $7 million fortune in the breakup of his first marriage, to Catherine Mellon, daughter of multimillionaire Paul Mellon. He and Taylor divorced in 1982, and he married real estate agent Jeanne Vander Myde in 2003.
Mr. Warner had three children, Mary, Virginia and John, and was a member of the Episcopal Church.
This article is based in part on wire service reports.




View original Post